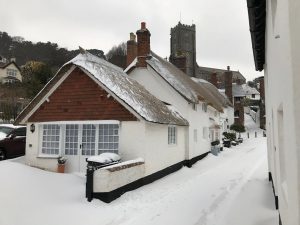 We're heading to The Old Sweet Shop when lockdown lifts!
Guest blog by Duncan Peberdy
What seems like just a few short weeks ago, the attraction of cruises, Caribbean shores and snow-covered slopes had an altogether different appeal than they do right now. In June, my wife and I were supposed to be heading to Ibiza for some 'her time!' That has now been put back to late August with no certainty that any normality of foreign holidays will have returned by then. In fact, our whole attitude to airports, aeroplanes, and foreign destinations will be forever changed by COVID-19.
Thankfully, when lockdown lifts and essential-only travel does not restrict us, I know precisely where we will be heading. Not just to the Somerset seaside setting of Minehead, but to the familiarity and tranquillity of The Old Sweet Shop where we can relax in the hot-tub and snuggle up in front of a crackling real fire.
In February 2018 we had the privilege of being the very first visitors to the newly renovated and re-thatched cottage tucked away in Upper Minehead. That visit, the first of three, coincided with a depth of snowfall rarely seen in West Somerset, and, unable to drive for a few days, it made us explore more of what was immediately around us.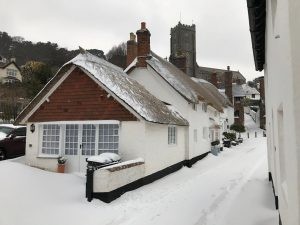 Minehead out-of-season, when our Spaniels are allowed on the beach, is brilliant for dog lovers. You can simply walk along the sands towards Dunster and back, or if your more adventurous (and fitter!) make it a circular walk and come back across the hills that look down onto Minehead. Locked-in by the deep snow, we explored the woods easily accessible from Upper Minehead, discovered some great walks where the dogs could run free and had the joy of seeing Red Deer bounding throughOn other occasions, we have driven the short distance to Medieval Dunster with its National Trust castle, to the Quantock Hills, along the coast to Porlock Weir with its intriguing sea marsh and battlefield-esque trees, and in the opposite direction to Watchet Harbour with its quaint houses and shops. But mostly we just walk from The Old Sweet Shop towards Minehead harbour, along the beach towards Dunster, and back through Minehead itself where the Apple Tree Tea Rooms welcome our dogs more than us! The seascape changes with every walk – Somerset, we discovered, has the second-highest rise and fall of tide in the world – and we can walk down by the water's edge or through the sand dunes that protect the golf course from the sea breeze.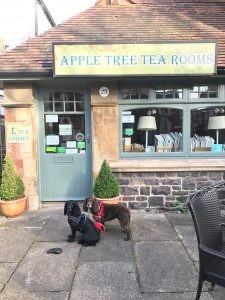 Most of Minehead's cafes are dog-friendly, and there's a good choice of restaurants; our favourite being The Old Ship Aground in the Harbour, which by appearances looks a little scruffy from the outside, but the food is exceptional and the dogs can come with us too! For a more expensive treat, Dunster offers the Luttrell Arms and Reeves Restaurant, and if you're having a holiday-tipple, a taxi to and from Dunster is very reasonable too.
The Old Sweet Shop is exquisitely furnished and with the hot-tub and real fire that we don't have at home it is exactly where we will be heading down the M5 to with Lola and Charlie when all this is over, and I for one can't wait.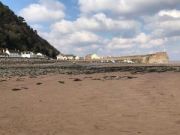 Make more memories at Exmoor Character Cottages and get the best rates when you book direct with www.exmoorcharactercottages.co.uk