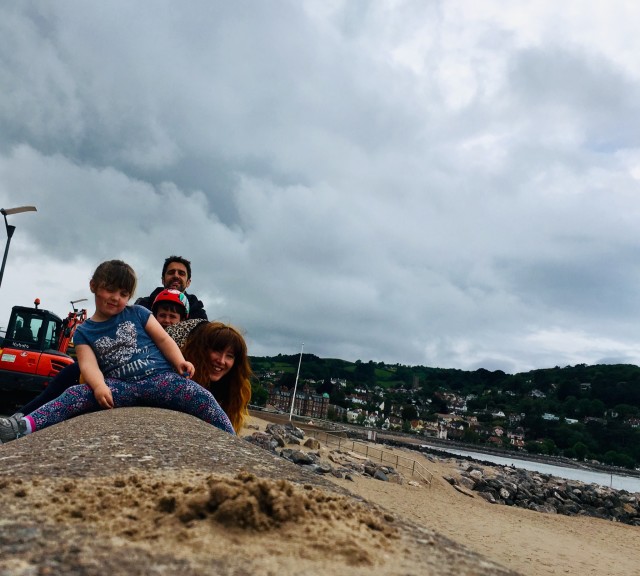 As we pulled up outside the screams of excitement from the back of the car said it all - they were glad not to be at school for the week! The sun was shining and we all felt a buzz of excitement as we checked in.
Later that evening we were dragged to the arcade where my 7 year old was desperate to spend every 2p that had ever been minted. The arcade offered a variety of machines that were cheap to ridiculously expensive! We ventured into one of the entertainment halls and watched an Elton John tribute. We weren't expecting it to be as good as it was and my husband who had been dreading our Butlins holiday in Minehead ended up loving every minute of the performance!

The following day we headed out to see what the town of Minehead had to offer - we started with the Minehead mile with auguemented videos along the way. The children loved it - as did we. Watching the swimming in the old Olympic lido, which is now a block of apartments/main road before dropping into Minehead eye for some much needed scootering by our skate crazy kids and then a Lidl's BBQ on the beach - which we had all to ourselves (the beach that is), listening to the steam train toot from time to time.
On our way back to our holiday accommodation we stopped to have our charactiours painted, which was great fun and only £5 a person! A great memento to remind us of our time at Minehead.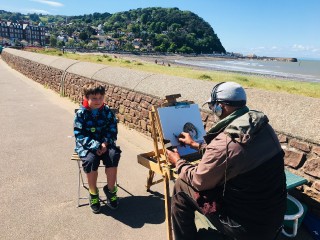 On our last day in Minehead we decided we would like to go a bit further afield and visited Porlock, which is very pretty with lovely shops, a beach and a VERY STEEP HILL.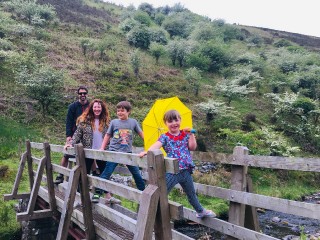 We then headed onto Robbers Bridge for a circular walk with the kids in tow - lots of moaning to start as they experienced Butlins withdrawal symptoms, but as the fresh air took over them with beautiful views they were soon splashing about in the stream that our walk followed. Lots of nice spots for a paddle and a picnic.
We were lucky enough that the weather was kind and dry for us for the majority of the time and although I never thought I would say this, but I think we will be back next year for another break. Minehead has lots to offer for families - the main draw for us would be the beach and cheap days out with the kids that don't cost the earth.
So if you are looking for a family friendly break on the coast with lots to do, Minehead is the destination of choice for us as a family. Flat short strolls (Robbers Bridge), indoor skate park, beautiful beach, bike hire for trails of Exmoor and the swimming pool at Butlins is a must!

Love the Satterlys xxx