Take a Hike!
Are you a stroller or hiker?
Whatever your age or ability there's a route to suit! Ranging from a gentle stroll along the promenade (suitable for pushchairs and wheelchairs) and historic town trails to the rugged coastal path and walks on North Hill for the more adventurous.

Minehead guided walks
Join one of the experienced local guides to discover the hidden stories of Minehead and hear history and folklore, myths and legends, shipwrecks and smugglers, people and places all brought to life by enthusiastic guides. Pre-arranged dates are available during the summer or tours can be arranged on demand.
Start from Minehead Information Centre, The Beach Hotel, near West Somerset Steam Railway
Tours last 60-90 minutes most routes accessible to wheelchairs & pushchairs (and well behaved dogs)
To book a place or for more information contact Minehead Information Centre on 01643 702624.
It's £2.50 for an adult, £1 for a child.
Short walks around Minehead
Minehead has a choice of short walks, some wheelchair and pushchair friendly. Ask the Minehead Information Centre team for advice. But to get you started, here are some of the team's favourite short walks.
Follow the promenade eastwards past the harbour to Culvercliffe. Stop off at a cafe or pub on the way. Suitable for wheelchairs and buggies. Allow approx 30 mins each way.
Take the England Coast Path alongside the golf course, past Dunster Beach Chalets then along the good path to Blue Anchor (there is a short section of beach walking at the end). Allow approx 1.5 hours one way. Return by steam train or vintage diesel locomotive (check times at https://www.west-somerset-railway.co.uk/)
Take a stroll through The Parks Walks. Walk inland through the shops to pick up the route following the Bratton Stream. Suitable for wheelchairs and buggies. Allow approx 1.5 hours each way. If you have a smartphone, visit http://minehead.storywalks.info to enhance your walk with historical and botanical information.
Follow one of the historic trails around the town - some are suitable for buggies and wheelchairs. If you have a smartphone, visit http://minehead.storywalks.info to enhance your walk with stories.
Steam railway walks
Take the train, then take a stroll. For some ideas, see http://www.wsr.org.uk/ba-dr-md-leaflet.pdf
Or try to beat the train......... https://www.west-somerset-railway.co.uk/walking-and-running-beside-the-west-somerset-railway
Longer, more challenging walks
There are endless possibilities for longer walks on more challenging terrain starting from Minehead. Call in to the Minehead Information Centre for some top tips but just a couple of suggestions are: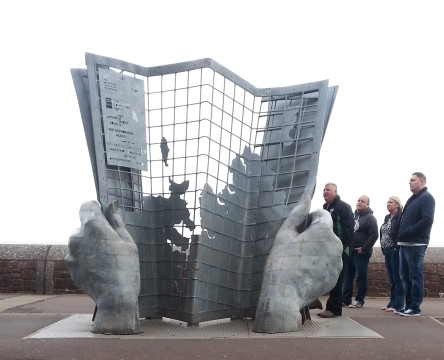 Follow the South West Coast Path westwards to Porlock. You have the choice of the rugged route (more challenging and a little further) or the inland route. Allow approx 3.5 - 4.5 hours one way. Catch the service bus back (check times at http://www.travelinesw.com)
Park at Hopcott car park (TA24 6DJ). Walk up onto Wootton Common, follow the ridge trackway then descend to Dunster. Return by the same route, or take an alternative (there are many options between Dunster and Hopcott). Allow approx 1.5 hours each way
Follow the leader
There are lots of opportunities to join guided walks on Exmoor. The rangers of Exmoor National Park Authority and Quantock Hills Area of Outstanding Natural Beauty often lead public walks, along with numerous other organisations keen to share their love of Exmoor.
https://www.exmoor-nationalpark.gov.uk/enjoying/events
https://www.quantockhills.com/aonbevents
https://www.exmoorsociety.com/content/what-we-do/walks-programme
http://enhs.org.uk/what-we-do/current-programme/
Contact the team at Minehead Information Centre for advice on where to walk and to purchase maps and walking guides.