Guest blog by Stella, Andrea, Julie and Shirley (The Spa Ladies)
Firstly, let me say that my friends and I have been coming to Lucy's cottages for seven years. She calls us the 'Spa Ladies', but since our first girl-only trips, the 'Spa Men' have joined us too for our annual October or November get together at The Old Sweet Shop.
The trip I'm writing about was in February 2020, when us four ladies stayed at Stone Barn. Since 2015, we witnessed Stone Barn's gradual conversion from a derelict shell to the beautiful five-star luxury self-catering property it is today. (Don't just take my word for it, VisitEngland has assessed it as Five Star Gold, their highest score!).
We stayed for a long winter weekend, where we made the most of the stylish open plan cooking/dining/living area to chill and catch up. The weather wasn't great, but we didn't mind, we had nibbles, chocolates, wine and cocktails and each other's company to enjoy. We loved it so much that we held our first ever pyjama day on Sunday! These times together are so important when we all live such hectic lives with our families, jobs and homes to manage. As we've been friends for years, we can simply pick up where we left off – and the Stone Barn, The Old Sweet Shop and Pilgrim Corner have all proven to be the perfect locations for that over the years.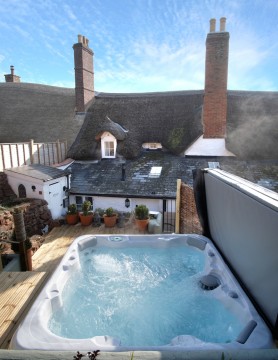 We all like to walk, and in better weather, we would have taken a ramble somewhere on Exmoor – either a much-loved walk, or a new one. There are so many places to choose from, we never tire of the area. But this time we headed down the hill into Minehead and indulged ourselves in a morning spent browsing in the boutiques and shops and snagging some very trendy vintage handbags – Maggie Thatcher style! There's nothing like the thrill of nabbing a bargain, and Minehead's Parade offers the perfect blend of charity, antique and vintage stores for those who like us love that particular thrill. And when we'd shopped 'til we dropped, there are some fabulous tearooms to savour scones and amazing cakes – we like Vintage Chic, The Creamery and Apple Tree Tea Rooms.
We are real fans of the Regal Theatre. We've seen some great productions there, so imagine our sheer delight when we discovered a cinema is coming to town! So, when we're back in October with the other halves, we'll be able to walk to the movies from the cottages too. We can't wait!
And yes, we'll keep coming back. These cottages are extremely comfortable and cosy, well managed and nothing is too much trouble for our hosts. We book early and look forward to our stays, and we'd recommend anyone to do the same.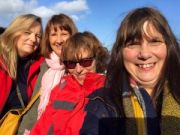 Make more memories at Exmoor Character Cottages and get the best rates when you book direct with www.exmoorcharactercottages.co.uk