There are several lovely spots for picnics in and around Minehead.
MINEHEAD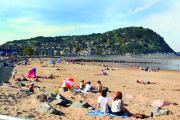 The Beach
Obvious isn't it?
Culvercliffe
At the west end of Minehead Bay, beyond the harbour, is a large grass area with an enclosed children's play space.
Blenheim Gardens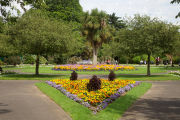 In the middle of Minehead and accessible from The Parade, Blenheim Road and North Road, Blenheim Gardens is picturesque and quiet location for your picnic. There is also a café in the gardens which is open seasonally.
North Hill
A short drive from the centre of Minehead will take you up onto our renowned North Hill. Once up top, there are several places you can park for a picnic and at the end of Hill Road there is a large car park with several paths leading to suitable spots.
Parks Walk
The Parks Walk is a linear park which follows the Bratton stream from the town centre to the western outskirts at Woodcombe, almost 2 miles in length. It consists of three sections all of which boast varied, interesting and rare trees, shrubs and perennials, a maple collection, a streamside environment, duck pond and natural wildflower areas. There are spots along the route suitable for picnicking.
Millennium Rose Garden
This garden is located on Seward Way, near to the Tesco supermarket
FURTHER AFIELD
Dunster
In this medieval village, a short distance from Minehead, you can picnic in the 2 National Trust car parks, one on Dunster Steep near the Exmoor National Park Visitor Centre, and the Dunster Castle car park. The lovely walled Village Garden in Church Street is quiet and secluded location for your picnic while a short walk further on is Gallox Packhorse Bridge over the River Avill.
Dunster Beach on the other side of the A39 is a nice spot for picnicking, in the pay car park by the Dunster Beach Chalets, or on the beach itself.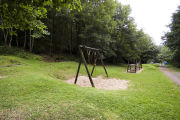 Nutcombe Bottom
A short drive through Dunster on the A396 brings you to the turning for Luxborough and Nutcombe Bottom. After approximately half a mile the Nutcombe Bottom car park is on the left in a valley of trees. This car park is part of the Crown Estate where you will find picnic areas and plenty of walks leading from this car park. There is a leisurely walk to the Tall Trees Trail where you will find the tallest tree in the British Isles!
Bossington
Heading west from Minehead brings you to the peaceful coastal hamlet of Bossington on the edge of the Bristol Channel with distinctive thatched cottages. There is a picnic area (with BBQ's) in the National Trust car park and from here you can wander down to the pebble beach, where there's plenty of coastal wildlife to spot and far-reaching views to Wales and along the Exmoor coastline.
Nearby on Exmoor
Lovely picnic spots can be found all across Exmoor of course but we recommend these, being not too far from Minehead:
Webbers Post Picnic Spot - go to the A39 between Porlock and Minehead. From Porlock direction, go round the sharp bend by the turning off to Allerford and shortly turn right by Piles Mill. Follow this small road for 1.5 miles to a small cross-roads. Go straight over and up the steep hill until the road forks. Take the right fork and then turn right into the large car park. This car park gives excellent views over Exmoor, the nearby Horner Water valley and Dunkery Beacon. There is an easy-access path from here with chain-saw sculptures along it with seats to enjoy the scenery and your picnic.
Dunkery Gate Picnic Spot - go to the B3224, Wheddon Cross to Exford road. From Wheddon Cross go towards Exford for about 0.7 miles to a sweeping left-hand bend. On this bend take the road ahead/right to Dunkery Beacon. Follow this road for 1.6 miles to reach a cattle grid and small bridge. This attractive little spot gives some grassy areas ideal for a secluded picnic, with Dunkery Beacon just above you. If the weather is suitable you could continue along this road to its highest point where you will find a lay-by with wide views over Porlock Vale and over to Wales.