MUSIC, THEATRE & CINEMA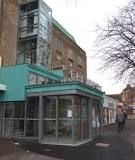 THE REGAL THEATRE, THE AVENUE, MINEHEAD
The Regal Theatre offers a wide ranging programme of professional entertainment including drama, comedy, dance, music and film. It also hosts community shows in its 400 seat auditorium. A full listing of shows can be found on the website http://regaltheatre.co.uk/. Tickets can be booked online, or by visiting the box office between 10am and 3pm, Monday to Saturday.
The Avenue Cinema, The Avenue, Minehead

Film lovers chance to see the latest releases at afordable prices in modern comfortable surroundings in one of 3 screens at the Avenue Cinema. Open 7 days a week Click the link for latest releases. http://avenue-cinema.co.uk/minehead/out-now
Other Music Events
In addition, some of the pubs and eateries offer live music and entertainment in the evenings.
At weekends during the summer, there are concerts in the band stand in Blenheim Gardens.