Minehead has plenty to offer your four-legged friend, with dog-friendly pubs, restaurants and accommodation. There are also some great local walks.

Culvercliffe
Walk along the seafront past the old harbour to Culvercliffe. Here your dog can run free on a flat, grassy area. There is a children's play area here and a pebble beach alongside.
Hopcott Woods (TA24 6DJ)
Walk up to Wootton Common (or park at Hopcott car park) and walk along the ridge to Dunster.
Scrub Land, Seaward Way
Opposite Tesco, just off Seaward Way is an area of open land. Here your dog can play on the grass and alongside the pond - hopefully not in it!

North Hill
Rising above Minehead beyond the harbour, North Hill offers an endless variety of walks for you and your canine companions. You can let the car take the strain and drive to the top of the hill and walk from there or hike up from the harbour following one of the many paths around the hill.

The Parks Walk
Head through the town, along the tree-lined Avenue, past Wellington Square and follow the route alongside Bratton Stream. Dogs are welcome in The Parks Walk on a lead.
Beaches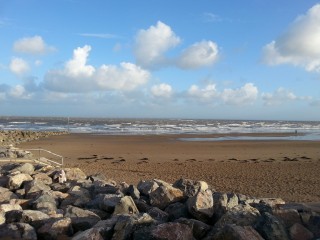 The main bathing beach in between the harbour and golf course allows dogs October to April. However, dogs are allowed year-round on the beach beyond the harbour and beyond the golf course. When the tide is out, there is plenty of sand for them to run on.. Dogs are also allowed on Dunster beach and Blue Anchor Beach all year round.
Plan your Doggy Adventure
Maps are available from Minehead Information Centre or ask the friendly team for advice on the best routes for you and your dog. But please be a responsible dog owner and pick up after your dog; there are dog waste bins located throughout the town.