The England Coast Path is a new National Trail all around England's coast. It's opening in sections and will be complete in 2020. When it is complete it will be one of the longest coastal walking routes in the world.
Minehead lies on the South West section and provides some of the best coastal views in the world. Much of the route, from Minehead going west follows the existing South West Coast Path. Going East, there are several new sections joining up existing rights of way running to Brean Down.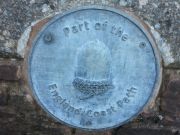 You can plan an expedition on the South West section using the National Trail website but locally we have maps and books covering the Brean to Minehead section, and of course plenty of maps and book covering the Southwest Coast Path heading west from Minehead.
Pop in and see us for more information - Minehead Information Centre, The Beach Hotel, opposite West Somerset Steam Railway.