Be a part of this incredibly popular weekly event in Minehead!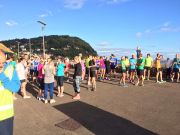 Minehead's Parkrun has grown in to an extremely popular and fun event and what a great way to start the weekend!
It starts at 9am very Saturday and it's free to take part. Just register online and take the barcode you print with you to check in for each race.
It's a 5 kilometer route and you can run at the pace which suits you - running for enjoyment!
It's entirely run by volunteers and more are always needed - please get in touch if you can help: [email protected]