MINEHEAD MUSEUM
Welcome to the history of Minehead!
Why is Minehead called Minehead?
What inflammatory event happened in 1791?
What are the origins of the Minehead Hobby Horse?
What happened on North Hill during the World Wars?
Why not come along to find out the answers to the above questions - and learn more about Minehead's origins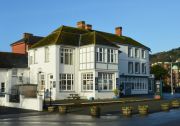 HOW TO FIND US
We are located near the seafront, opposite West Somerset Railway, inside The Beach Hotel
Our address is: The Beach Hotel, The Avenue, Minehead, Somerset, TA24 5AP
OPENING HOURS
From the end of March to the end of October we are open Tuesday to Saturday 10am - 4pm and Sundays 11am - 4pm. We are also open Bank Holiday Mondays and Mondays in school summer holidays.
The museum is a registered charity and run by a dedicated team of volunteers. We look forward to welcoming you.
For more information, see http://www.mineheadmuseum.co.uk/