Get on your bike!
Minehead is a great base for a variety of exciting off-road biking routes across the steep and rugged terrain of Exmoor. It is known as one of the best and most challenging off-road cycling destinations in the UK.
The combination of a beautiful and varied landscape and a good network of bridleways, lanes and other permitted tracks provide ample opportunity for cyclists to plan some fantastic rides. There are short rides up and around North Hill or above Dunster, to longer rides exploring central Exmoor or the Dunkery Beacon, the highest point on Exmoor.
ROAD ROUTES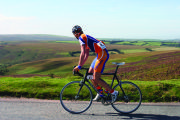 The network of quiet lanes allow you time to take in the sights, sounds and smells of thecoast and countryside - but be warned, it's a very hilly landscape!
For a short ride, cycle to Porlock Weir, stopping to browse the shops in Porlock village. Porlock Weir is an ideal lunch spot with its picturesque harbour, sheltered harbour seat, craft galleries and cafes/pub for refreshments.
For longer rides, climb over Dunkery Hill to the heart of Exmoor, stopping for refreshment at Wheddon Cross before returning. Or if you still have some energy left, continue to Exford and its postcard pretty cottages set around the village green with tea room and pubs.
ADVENTUROUS OFF-ROAD CYCLING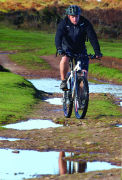 If you're looking for a challenge why not try cycling up North Hill above Minehead? There are many off-road cycle routes for fit mountain bikers following the bridleways and tracks. It may be hard going but once you're up there the views across to Wales and Porlock Bay are well worth it! From here, take one of the many return routes to Minehead - or continue exploring more of Exmoor.
For those that want the benefit of an experienced guide, why not contact Channel Adventure who can tailor-make an outdoor adventure suited to your level?
FAMILY-FRIENDLY ROUTES
If you want a more leisurely ride which is shorter and flatter, follow the cycle route from Minehead to Dunster, on a dedicated cycle path off the road. Allow approximately 20 mins each way. Here there are a variety of shops, tea rooms and pubs set in this historic medieval village, along with Dunster Castle which is owned and run by the National Trust.
Alternatively, you can follow the Steam Coast Trail from Dunster Beach towards Blue Anchor. The trail falls short of Blue Anchor by 200 metres or so but it is possible to push your bike (or use a mountain bike) to connect up with Blue Anchor by going along the beach. Blue Anchor has a long sandy/pebbly beach, cafe and pubs. You could return to Minehead using the heritage steam railway.
For more information on the trail see http://www.steamcoasttrail.org/
For more ideas on where to cycle visit the team at Minehead Information Centre in The Beach Hotel in Minehead, opposite the West Somerset

Railway station, or call 01643 702624