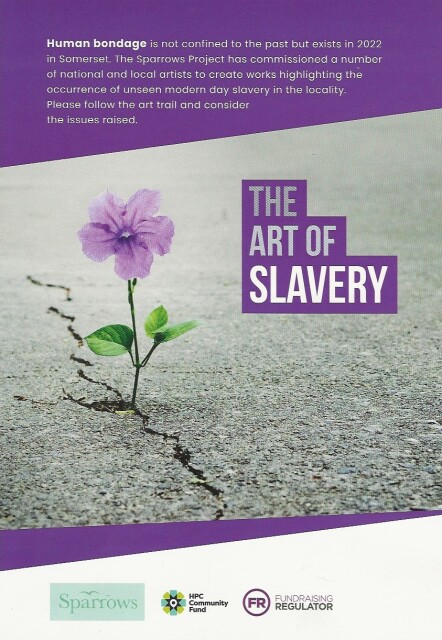 The Art of Slavery
6 June to 9 July 2022
During this time in an area from Porlock to Bridgewater numerous restaurants, cafes, hotels, libraries and other outlets will be displaying contemporary works of art seeking to reflect the prevalence of modern day slavery in Somerset.
According to the International Labour Organization, forty million human beings are enslaved worldwide and one in four of these are children. Every day some 22,000 people enter into slavery and in the time scheduled for each football match, some 1,400 human beings will become victims of "slavery" and "servitude". In the UK the experts estimate that some 136,000 people are living in modern slavery on any given day a figure which is likely to increase with the refugee and cost of living crises
Horrifying slavery exists in 2022 in Somerset. The Sparrows Project has commissioned a number of national and local artists to create works highlighting the occurrence of unseen modern day slavery in the locality. We invite you to follow the art trail and consider the issues raised by the artists and your response. Details of the venues are available on rhws.org.uk and at locations throughout the area.
Minehead Information Centre is pleased to be part of this exhibition. Call in to view our two exhibits throughout June.
Restore Hope West Somerset has developed the Sparrows Project to work for the release and rehabilitation of those who have been enslaved, while seeking to raise awareness of the existence of modern day slavery to such a level that its existence becomes impossible in the local area.

Contact Information
John Dickinson
Email: [email protected]
Tel.07964697772