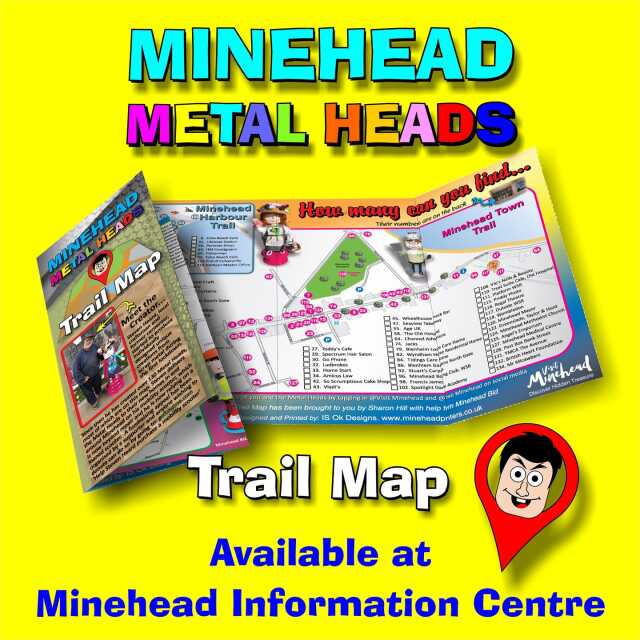 Minehead Metal Heads Trail Map – The Inspiration
Minehead Metal Head Trail Map was launched on the 12th August 2021 to thrill and excite children of all ages while walking around Minehead
The Metal Heads were created by local craftsman Steven Heard. He started to produce the individually designed, unique creations out of scrap metal during the first lockdown. Since then he has created over 130 metal heads you can spot in and around Minehead.
Have you ever wondered whose idea it was to create the maps and where the inspiration came from? If so read on.
Local woman, Sharon Hill put a post out on Minehead Conversation Face book page and was inspired by the response. She wrote
"Minehead loves Steven's Minehead Metal Heads. So how about we make a trail map of his creations, similar to the Bristol Gromit Sculpture trails? My daughter and I used to love following the Bristol trail maps and finding the sculptures. Perhaps maps could be made available in Minehead local shops and the Minehead Information Centre - maybe make a small charge for each map to cover cost or raise money for charity! It would increase Shop footfall as well as being great fun for the children. What do you think?"
Sharon received 178 likes and 39 positive responses - and so began the making of the trail maps. Minehead BID helped Sharon turn the idea into a reality and Ian from ISOK Design let his artistic ideas flow to produce a leaflet worthy of the Metal Head maps Sharon produced.
Pick up your copy of the Minehead Metal head Trail map from Minehead Information Centre at The Beach Hotel and other businesses throughout the town. Why not post a picture on our love Minehead FB page of you standing next to your favorite metal head?